Monday, 22 May 2017 10:48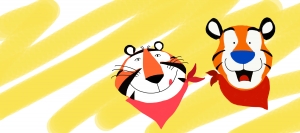 Tony the Tiger was created by the advertising company, Leo Burnett, which is still operating today. This is the company that also created the Marlboro Man ads for Marlboro cigarettes, the Jolly Green Giant, Pillsbury Doughboy, and Toucan Sam. Leo Burnett, the company, was started by Leo Burnett, the person, who lived from 1891 to 1971. In 1951, the Leo Burnett advertising company created several characters for Kellogg's Frosted Flakes. Tony the Tiger was sketched by Eugene Kokley, who was an art director and graphic artist in Leo Burnett's creative department. Another employee, named Martin Provensen, is credited for creating the finished version of Tony the Tiger.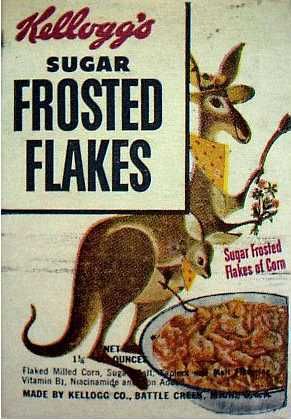 The other characters who competed to be the mascot of Kellogg's Frosted Flakes were Elmo the Elephant, Katy the Kangaroo, and Newt the Gnu (which, by the way is spelled g-n-u...it's apparently another name for Wildebeest, which is a type of antelope).
Anyhow, Tony the Tiger just made sense - he had an energetic quality to him, and really conveyed the idea of having a strong boost to the start of your day. That's the whole idea of cereal.
Tony did not always look the way that he does today. In fact, his character used to walk on all fours, as real tigers do. And his head was football shaped (American football - so the kind you throw). Back then, Kellogg's Frosted Flakes was called Sugar Frosted Flakes. They got rid of the word "sugar" in the name when sugar started to get a bad reputation for being unhealthy. Over time, the growing awareness around how food affects health influenced the development of Tony the Tiger's appearance. He morphed into a tall, muscular tiger who walks on two legs and plays sports. And that's how we know him today. In fact, cultural perceptions continue to influence corn flakes ads - realizing that dads are also buying groceries these days, newer ads have included dads playing sports with their kids.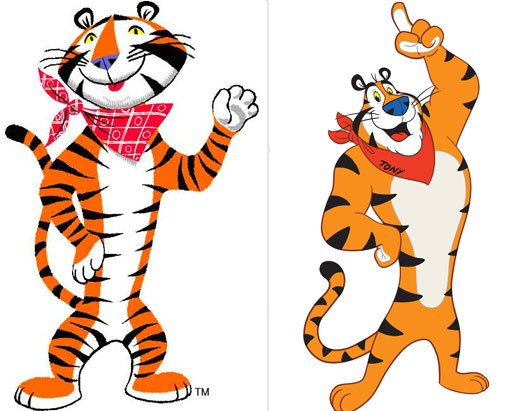 What hasn't changed is his bandana that he wears around his neck, and those super famous words - "They're greeeeat!"  The voice of Tony the Tiger was Thurl Ravenscroft. Thurl was born in 1914 and passed away at the age of 91 in 2005. He did the Tony the Tiger voice for over 50 years! And he was so much more than the voice of Tony the Tiger - he was also the singer for "You're a Mean One, Mr. Grinch" from How the Grinch Stole Christmas. He also did voice work for Disney attractions, such as The Haunted Mansion, Country Bear Jamboree, Pirates of the Caribbean, and more.
And let's not forget that someone had to come up with the line "They're greeeaat!" That line was written by a copywriter named John E. Matthews. Last fun fact - Tony the Tiger was named after Raymond Anthony Wells who worked at Leo Burnett.